Originally preached at Living Savior Lutheran Church in Fairfax Station, Virginia
---
Grace, mercy, and peace to you from God our Father, and our Lord and Savior, Jesus Christ.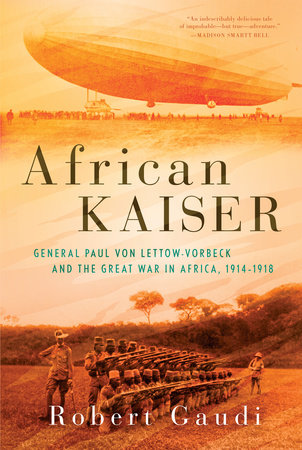 As all of you know, I have an interest in history, and one area that I've recently been devoting a fair amount of attention to is the history of the First World War. As part of satisfying that interest, earlier this year, I happened to read a biography of General Paul von Lettow-Vorbeck, who commanded troops in an extensive guerrilla warfare campaign against both British and Belgian forces in German East Africa, what is now modern Namibia and Tanzania.[1] Even though his army of native Askari troops and German colonial Schutztruppe were equipped with outdated single-shot, black-powder Jägerbuchse rifles, had little artillery at their disposal, and were technologically and numerically outmatched, they were nonetheless able to inflict severe losses upon the British and Belgians. They were the only German forces in the entire war who were able to successfully bring the war into British territory, and only surrendered at the end due to shrinking numbers of men and supplies in the face of increasing numbers of British and Belgian troops being brought in from outside of Africa. Because of his gallantry in battle and his ability to win the admiration of his enemies, von Lettow was given the nickname, "The Lion of Africa," and he has gone down in history as one of the greatest guerilla fighters of all time. (He is also remembered for colorfully telling-off Hitler in the 1930s when the latter asked for his endorsement.)
In our Gospel reading this morning, we see a different kind of lion, the Lion of Judah, preparing "soldiers" for a different kind of guerrilla warfare. Jesus is preparing 72 (or in some manuscripts, 70— it's a difficult textual question as to which one Luke originally wrote because existing manuscripts are split between the two numbers; that said, theologians have determined that 72 is most likely)– 72 new disciples to go out into the world to preach the good news of the kingdom of God to the towns Jesus was going to come through. Like von Lettow's Askaris, they'll go lightly armed, with little equipment, but their foes are not flesh and blood like the British or Belgians. These 72 disciples are going behind the lines deep into enemy territory, territory ruled by Satan, the Prince of the Power of the Air. Jesus is sending them out like sheep among wolves— the enemy is dangerous and deadly, and going as they are, they appear vulnerable. We might assume that the territory is not just hostile because they'll be doing battle with the forces of evil, preaching the good news of the kingdom, but also because they will literally be going into hostile territory for Jews. As we heard last week, Jesus and his disciples have been going through Samaria, and the Samaritans, long considered by the Jews to be a people and religious group tainted by foreigners brought into the region by the Assyrians when they conquered Israel, aren't terribly friendly toward the Jews. Jesus and his disciples have already been turned away from one town in Samaria; it's likely that the 72 won't receive a warm reception here as well. But nonetheless, they're going out, vulnerable, to preach a message of repentance and the coming of the kingdom to an unbelieving and hostile world. And they are going into this hostile world, full of sin and its entanglements, full of violence and hate, full of unbelief and persecution, to do the will of their master, to preach the peace of the coming kingdom to potentially enemy ears. He sends them off like lambs in the midst of an enormous wolfpack.
Like the 72, Jesus sends us out to be his ambassadors to the world as well, to shine the light of Christ before others. Our task may not be quite the same— for us, the kingdom of God is now here, and we, as Christians, are citizens of it— but the world today isn't any less hostile to the message of the kingdom of God than it was when Jesus sent out the 72. This seems odd to us as members of the Church in a country where Christianity seems pretty mainstream and (as of 2017), 70% of the population identified as Christian. But there are still plenty of people who are hostile to the Gospel or who have not heard it and are enthralled by other religions, and the number of people who claim no religious affiliation is growing by the day. Here in Northern Virginia, "nones," those people who seem to have no religious affiliation or belief has increased to roughly 60% of the local population. That's a lot of people who have either left the church, never were part of the church, or are burned out on religion who are trapped in their sins and need to hear the Gospel, many of whom likely have their own conceptions about the church that don't make them well-disposed to hearing the good news of the Kingdom of God.
And adherents of other religions and the rising prevalence of irreligion aside, the world certainly doesn't want to hear a message of repentance for the forgiveness of sins. The world is partial to sin. The world likes violence and greed and sensuality and hatred. The world loves pride and vanity and envy, gluttony and mindless consumption. The world loves apathy and dehumanization and death and objectification, among myriad other things. And the devil and the world thrust these things upon us, their own foul panoply, in order to entice and captivate with the aim of leading astray and, ultimately, destroying souls. The devil and the world play to man's sinful nature with these things, and they seek to undermine the message of the Gospel by bringing down those who would be God's ambassadors to the world and who would live as his children. All of us have been tempted by these things, all of us have given into them one time or another. We all, like sheep, have gone astray, and sometimes the wolves have attacked us. Sometimes the wolves have taken a few members of our flock. Sometimes some of us have been turned into wolves. Sometimes, we have had wolves in sheep's clothing among us. When we see the weapons arrayed against us, we realize that it's not easy being someone sent by Christ. It can be downright frightening, and when we seem to be losing our battles to the wolves, it can lead us into fear and despair.
And of course, the mission for us is different. The 72 were sent out by Jesus to specifically preach the kingdom's coming. We haven't been commissioned that way. Not all of us are gifted preachers. Not all of us have been given the vocation to preach and teach like a pastor or a missionary does. And we are living in the world post-resurrection; Jesus has died and risen to forgive our sins. The kingdom of God has come near and is with us. But how do we go about in this hostile world with confidence, knowing what lurks out there, waiting for us? If Jesus has called us to serve him, what is he calling us to do? How can we face the dangers of this still dangerous world if we're not being sent out in the manner of the 72 to explicitly do battle with evil?
When Jesus sends out the 72, he apparently sent them "unarmed," but in reality, they are carrying a super-weapon on their mission into enemy territory. Think of it as something like a spiritual briefcase nuke. Jesus gives them authority to speak his peace to the people they come to. The peace of God comes with them, and that peace is the blessing of eternal life through faith in the promised work of Christ, in the coming of the kingdom of God. Their job is to speak that peace, to tell other people about the reason for their peace, and should they be open to it, pass it on to them. It is the peace that comes when the kingdom of God draws near. The faith they have in the promise keeps them safe; it gives them the power to cast out demons, to heal, and to tread upon all the evil schemes of the enemy; to strike such a blow against Satan through the good news of God that Jesus sees him falling from heaven, his power weakened and grip on mankind loosened. Faith in the redemptive work of God forgave their sins, and put their names in God's book of life. Jesus reminds them that they should not rejoice in the power he gives them over evil forces, but rather to rejoice in knowing that their "names are written in heaven," that their hope and joy should be in their salvation. The 72 can boldly go about their mission, as sheep among wolves, but safe from the enemy's assaults. Jesus assures them: "And nothing will harm you." They are forgiven, and reconciled with God to do his work.
The peace of God, the promise of redemption from sin and the gift of eternal life, made it possible for the 72 to go forth and perform their mission for Jesus, preparing the way for him on his journey through Samaria. That peace of God is also ours. Though we are not called by Jesus to perform the exact mission of the 72, we are nonetheless his missionaries. As Peter writes in his first epistle, all Christians "are a chosen people, a royal priesthood, a holy nation, God's special possession, that you may declare the praises of him who called you out of darkness into his wonderful light" (1 Pe 2:9 NIV). We, therefore, trusting in the work of Christ for our salvation from sin, can, through our daily vocations, witness Christ by the way in which we live, and by so doing, we can be the light of the risen Christ in the world for others.
Martin Luther once said the following through how a Christian can be a source of light and peace in the world in a 1522 sermon:
"The prince should think: Christ has served me and made everything to follow him; therefore, I should also serve my neighbor, protect him and everything that belongs to him. That is why God has given me this office, and I have it that I might serve him. That would be a good prince and ruler. When a prince sees his neighbor oppressed, he should think: That concerns me! I must protect and shield my neighbor….The same is true for shoemaker, tailor, scribe, or reader. If he is a Christian tailor, he will say: I make these clothes because God has bidden me do so, so that I can earn a living, so that I can help and serve my neighbor. When a Christian does not serve the other, God is not present; that is not Christian living."[2]
Christ has sent us, recipients of the promise of eternal life, royal priests in a holy nation, to serve one-another and to be agents of the Gospel through our interactions with others in an unbelieving world. You can be confident as a Christian, "always being prepared to make a defense to anyone who asks you for a reason for the hope that is in you" (1 Pe 3:15 ESV), because Jesus has empowered you to serve others because he first served you. You don't have to be afraid to reach out to others who are not in the church, you don't have to fear engaging those who are in the thrall of the world because Jesus has written your name in the heavens. He is with you, and though you may seem to be a sheep among wolves, no power of the enemy can harm you when you trust in him and let him use you as his instrument. Go forth and serve joyfully— Jesus has saved you and sent you to share his peace! Amen.

---
[1] Gaudi, Robert. 2017. African Kaiser: General Paul von Lettow-Vorbeck and the Great War in Africa. (London: Hurst & Company.)
[2] Martin Luther, "Sermon in the Castle Church at Weimar" (25 October 1522, Saturday after the Eighteenth Sunday after Trinity), in D. Martin Luthers Werke: Kritische Gesamtausgabe, 60 vols. (Weimar: Herman Böhlaus Nachfolger, 1883–1980) 10/3:382 (translation F.J.G). Cited in F.J.G., "What Luther Didn't Say about Vocation," Word & World 25:4 (2005): 361.
---